Past Projects
Mingde Building - 明德廔
The first project of Project Mingde is the Mingde Building (明德樓), a primary school in Xiali Village, Guangxi Province.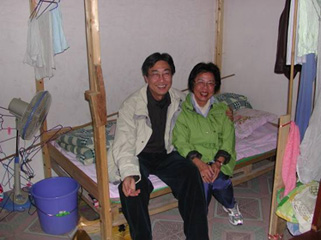 Prof. Nicolas S.Y. Yeung and his wife, Mrs. Lorene Yeung
During a hiking trip to Guangxi in 2003, Professor Nicolas S.Y. Yeung, a 1971 graduate in Civil Engineering, was struck by the contrast between the poverty of the ethnic minorities living there and the comfortable life that Hong Kong youngsters enjoyed. He saw some brick walls standing up in a seemingly deserted site and he later found out that these walls were part of a school building which the villagers were trying to build to replace a shattered primary school building for their children. It has taken the villagers 10 years to pool together their contributions to come up with these walls. With a will to fulfill the dream of the villagers, Professor Yeung and his wife, Lorene, decided to come up with the necessary funding for a new school building and proposed to involve university students in completing this meaningful task.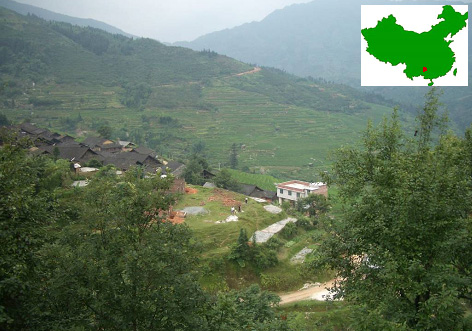 Xiali Village, hilly village in Guangxi
In 2004, he approached Professor Peter K.K. Lee, then head of the Department of Civil Engineering, with an idea of involving students from his department in this project. Professor Lee was convinced of its value in giving the students rare field work experience and at the same time training them to become responsible members of the society and Project Mingde was then established.
A project team including teachers and students was formed and they stepped into the village for the first time in the spring of 2004. The team was thrilled with the condition of buildings in front of their eyes.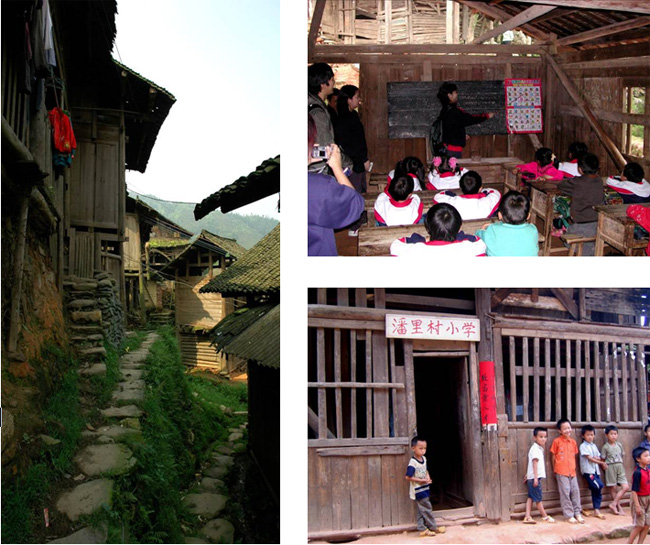 The original school building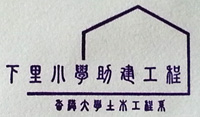 The logo designed by the project team
The project team started the design work in June 2004. From inception to completion, it took over 15 months. A logo particularly for this project was designed by the students and it was printed on all the drawings.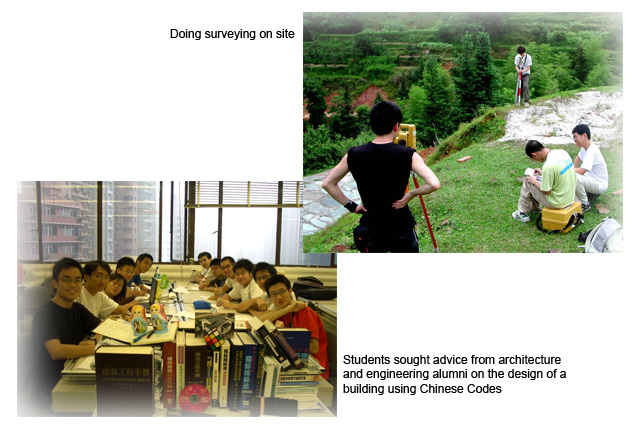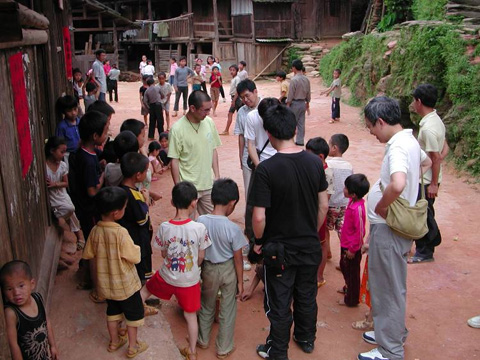 Visits to the village …. to find out and understand the villagers' needs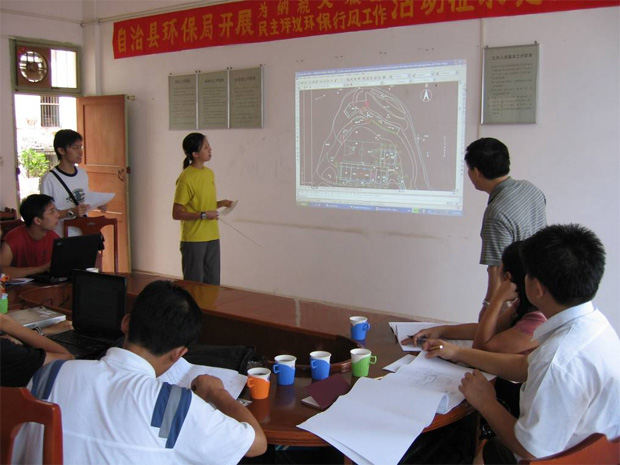 The project team presented different design schemes to the villagers and
the final scheme was submitted to the local authority for approval.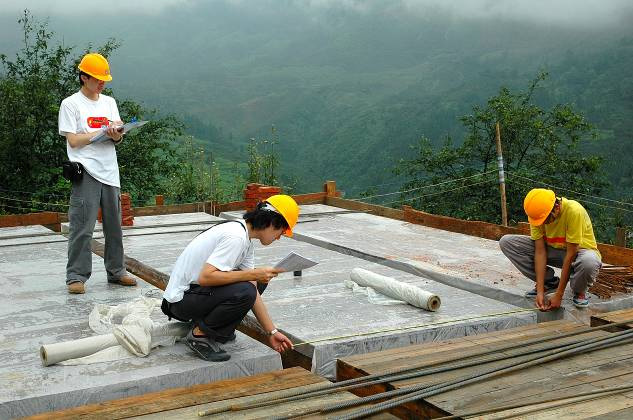 Working on site in the summer of 2005
With the great efforts from the project team, the two-storey school was completed in September 2005 and the students decided to call it "Mingde Building", in recognition of the inspiration provided by the programme's name, Project Mingde, and HKU's motto.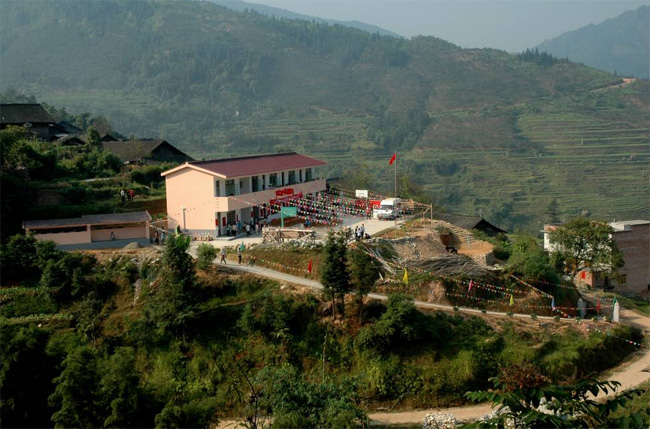 The completion ceremony in 2005

The completion ceremony in 2005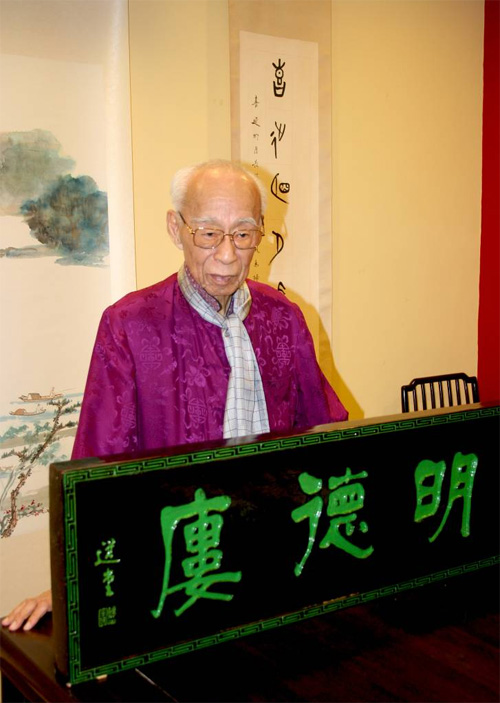 Professor Jao Tsung-I, a prominent Chinese Master, kindly inscribed the name of the new building.
Quote from a student:
"We were taught a lot of theories in class but hardly could I appreciate these theories if I hadn't experienced these in person or seen these with my own eyes."

By Adrian Lai, 2005 BEng(CivE) Graduate
Summary of the project:

:
Professor Nicolas S.Y. Yeung and his wife,
Mrs. Lorene Yeung

Sponsor
(for travelling and lodging expenses
of the project team)

:
Activist Association 力行社
:
A two-storey school building and a public toilet
:
463 m

2

:
RMB 268,115

Start date of construction

:
May 2005
:
September 2005

Total number of site visits

:
8

Total number of students involved

:
24
:
Mingde Building